Virtual tour Latvian home factories
donderdag 26 november 2020
Virtual tour Latvian home factories
The Netherlands has a shortage of homes, mainly affordable ones. The building capacity is one of the major constraints to add enough new houses. One way to speed op production is to import factory build homes, for example from Latvia.
Latvia has a long history of off-site construction of houses. These home factories built wooden houses, mainly for export to Scandinavian countries. Together with the Latvian Wood Construction Cluster we organize a webinar to introduce three large factories that can produce for the Dutch market.
After the introduction we start a short virtual tour to three factories, to get a first impression of the possibilities. At the end of the plenary part there will be plenty of time to question the companies in three breakout rooms, where participants can talk with the factories in small groups.
Register here to join the tour
Date: thursday the 26th of November, starting at 13.00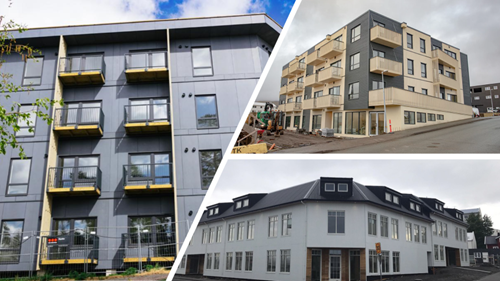 Program
13.00    Introduction
13.10     Virtual tour to the factory: Ostby
13.20     Virtual tour to the factory: Byko-Lat
13.30     Online presentation from the factory Nordic Homes
13.40     Wrap up
13.45     To the breakout rooms (ends when all questions are answered)
Factories
The Ostby factory manufactures wooden panels and modules at a professional high-quality level. We offer to design and assemble these materials in to prefabricated housing. Our core competence is the production of Detached private houses, Townhouses and Twin houses, Apartments, Commercial buildings. We also provide Project engineering and technical calculations for each product, House delivery to customer's building site Assembly supervision services.

Custom-made prefabricated timber frame modular houses from Latvia.
Built from the scratch in 1993, BYKO-LAT evolved into one of the largest and most efficient timber production plants in Latvia and currently is one of the leading forest products exporters from the country. More than 90% of goods are sold outside Latvia – mainly to the United Kingdom, Netherlands, France, Belgium, Denmark, Norway and Iceland.

Prefabricated timber frame MODULES &PANELS for fast on-site construction. Flexible designs according to customer requirements & appropriate country regulations. The possibilities of our high-quality and long-lasting wooden frame construction technology are practically limitless. Due to its relatively light weight, durability, flexibility and variety of possible shapes, Wood is increasingly used as the main building material for the creation of various architectural masterpieces. The system of wooden frame panels and modules provides an opportunity to build buildings of any application, size and complexity.